Dive Charter Tours
SCUBA Diving & Snorkelling with Narooma Charters
Whether SCUBA diving or snorkelling at Montague Island, it's lauded as one of diving's most diverse and best kept secrets. 
Only 5 nautical miles off the coast from Narooma, you can swim with friendly seals in pristine waters. It's unique location offers dozens of dive locations and the advantage of dives in almost any weather conditions. It is recognised as a world-class diving destination with wonderful surprises throughout the various seasons.
During the cooler months you can experience the sheer exhilaration of diving or snorkelling with up to 1800 very friendly, very agile, very playful fur seals. Or maybe witness one of nature's brilliant Humpback whales or the spectacle of a pod of dolphins.
A few months later warm currents up to 26 degrees bring a mass of tropical fish and pelagics as well as the nutrients that feed the coral, nudibranchs, giant tube worms and gorgonea fans. The currents also bring creatures not normally seen this far south, such as the Grey Nurse sharks that take up residence in February, the occasional turtle, manta or sunfish. You can visit the usual hordes of kingfish, trevally and hosts of other reef species, and 200 to 500 seals stay around for the summer months.
Our boats have been customised to cater for a great diving experience, with sit-down dive racks, twin entry/exit ladders, air fills and excellent on-board facilities. So come and dive with us and discover the depths we'll go to for customer satisfaction.
View Tour Options
View Gallery
DIVE CHECKLIST:
Sunglasses
Sunscreen
Camera
Food and drink
'C' Card or dive qualification papers
Enjoy a 25 min ride to Montague Island from Narooma. Have two dives at your specified locations. Please note our dive tours are not guided.
Book Tour
4 hours
8:00 am
$110 pp*
*dive hire additional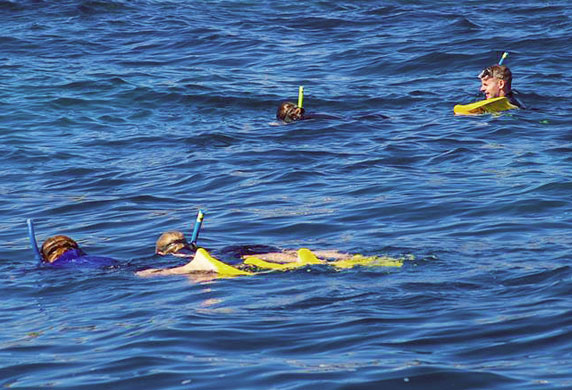 4 hours
8:00 am
Adult $90, Child $80
3 hours
1:00 pm
Adult $90, Child $80